4 Channel 12V Relay Module SPDT
The 4 channel 12V Relay Module SPDT (Single Pole Double Throw) can control up to 4 separate devices individually. Relays are typically used to switch devices which uses a higher voltage than what most micro-controllers such as an Arduino or Raspberry Pi can handle. This particular relay module can control typical household appliance up to 10A.
Note: PCB color, or layout may vary slightly.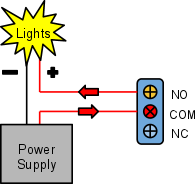 Above: Example of connecting power and lights to a relays COM and NO connectors.  
Specifications:
250VAC 10A, 15A 125VAC
Indicator LEDs
12V control voltage