Stepper Motor with Brake Nema 23 18kg-cm
This stepper motor has an electromagnetic brake attached at the back, this allows the stepper motor to instantly stop even with high inertia load.
Stepper Motors are great for position control. They can be found in desktop printers, plotters, 3d printers, CNC milling machines, and anything else requiring precise position control. These are a special segment of brushless motors. They are purposely built for high-holding torque. This high-holding torque gives the user the ability to incrementally "step" to the next position. This results in a simple positioning system that doesn't require an encoder. This makes stepper motor controllers very simple to build and use.
Technical Specification:
| | |
| --- | --- |
| Part No. | 57BYGH642D8P1-4-S |
| Form Factor | Nema 23 |
| Step Angle | 1.8 deg. |
| Rated Voltage | 1.98VDC |
| Rated Current | 4.2 A/phase |
| Phase Resistance | 0.33Ohm/phase |
| Phase Inductance | 3mH/phase |
| Holding Torque | 18 Kg-cm / 254oz-in |
| No. of Lead Wires | 4 |
| Rotor Interia | 1700 g-cm² |
| Detent Torque | 9.5N-cm |
| Motor Weight | 1.55 kg |
Mechanical Dimension: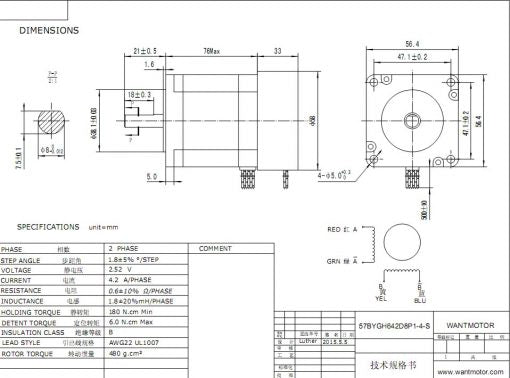 Applications
Printers
CNC machines
3D printer/prototyping machines (e.g. RepRap)
Laser cutters
Pick and place machines
Linear actuators
Hard drives