SKU:MLE00975
Regular price
Sale price
₱1,199.75
Unit price
per
Sale
Sold out
Share
View full details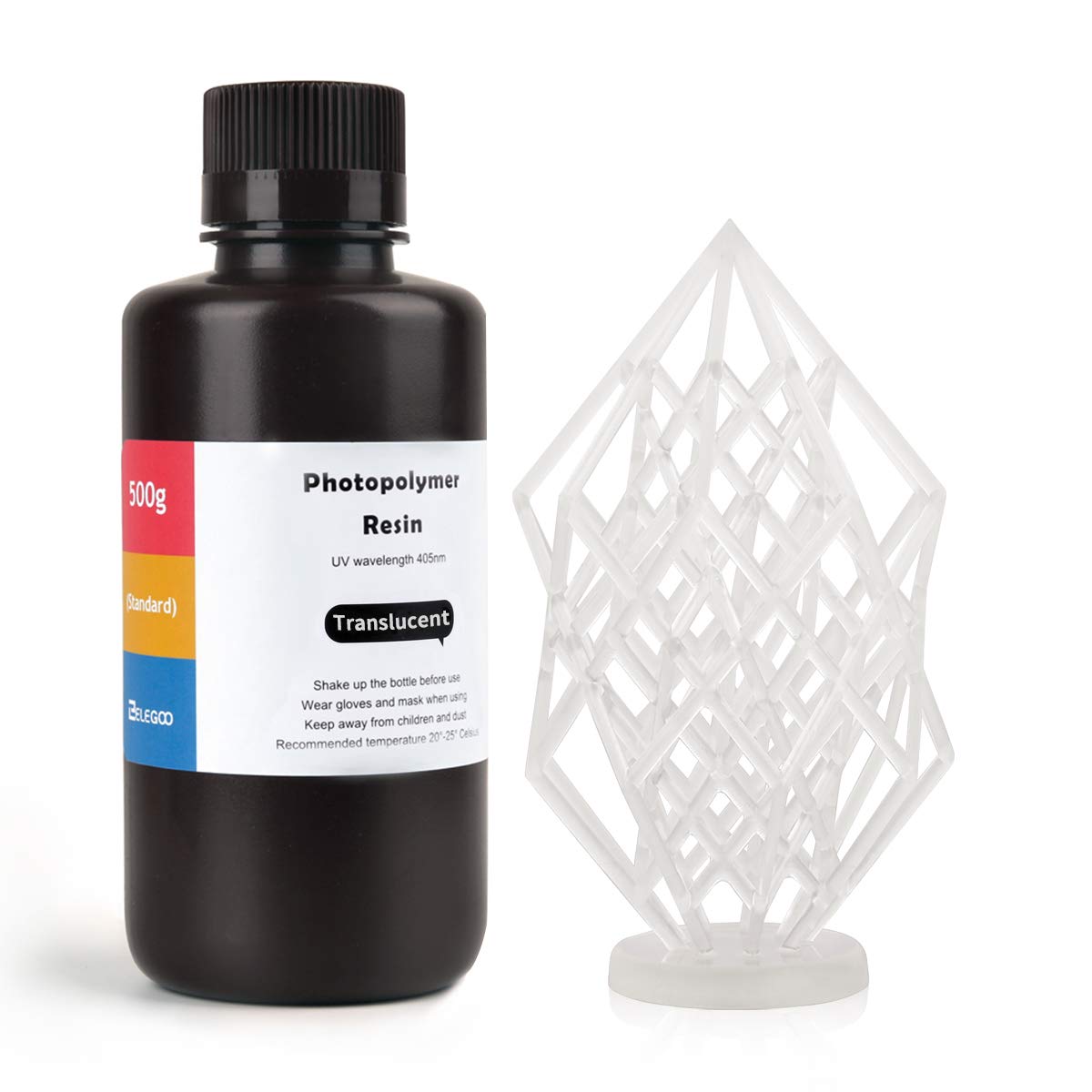 ELEGOO Standard Photopolymer Resin UV-Curing 405nm for DLP 3D Printing 500g

ELEGOO photopolymer resin is a type of polymer that changes its physical properties when introduced to light, and it's VOC free. In the case of 3D printing, this is a typical liquid plastic resin that hardens when exposed to a light source, such as a laser, a lamp, a projector or light-emitting diodes (LEDs) and most of these light sources irradiate ultraviolet (UV) light, which works perfectly with our photocuring resin. It's a perfect companion for LCD 3D printers, and the print quality is excellent in terms of the details and performances.
ELEGOO photopolymer resin is compatible with the LCD 3D printers using the UV light source to cure models.
It has a wide range of application from board game miniatures to industrial parts and components.
You can also use it to print your 3D CAD design works and make it from an idea into reality.
The only limitation is your imagination. Print now and go with ELEGOO.
Features:
?Low Shrinkage and High Precision?
ELEGOO photopolymer resin contains methacrylate monomers as to reduce volume shrinkage during the photocuring process, which ensures the high precision of the print model with smooth finish. This resin ensures the strength of molded parts and not excessive shrinkage, but also improve print speed, shorten the curing time and enhance the printing efficiency as much as possible.
?Strong adhesion of the model and easy to detach after forming?
Elegoo 3D resin minimize resin release force and adhesion, so that the model attached to the forming platform can easily shovel and low viscosity makes it easier to clean the machine and model. With those features, even tiny small parts are able to be printed in good form and fine structures.
?Bright and Stunning Colors?
With high quality pigments and photo-initiators inside ELEGOO UV-Curing resin, the models printed with resin have a very pure and stunning color effect just like an artwork of high tensile strength and can be colored easily.
?Wide Applications?
Giving the outstanding performances, ELEGOO standard resin is suitable for most DLP/LCD 3D printers for fast prototyping with toys, home and garden tools or jewelry applications.
?Safe and Secure Packaging?
Leak-proof bottle fully wrapped with a plastic bubble bag and exquisitely designed package box make sure the resin stays in place where they belong.
Usage Condition:
Shake up the bottle before use and avoid direct sunlight and dust.

Do not drink it and keep it out of the reach of children.

We suggest you wear a mask and gloves to avoid direct skin contact and maintain indoor ventilation.

If feel discomfort after you got skin contact, please see a doctor ASAP.

Once the model is complete, please wash it with high 95% degree or higher ethanol alcohol for 30 seconds at least.

If you don't use the resin please do not leave them in the resin tank over 48 hours.
Resin Parameter:
Hardness: 84 D; Shrinkage: 7.1 %V

iscosity (25°C): 150-200 mPa.sL

iquid Density: 1.100 g/cm³S

olid Density: 1.195 g/cm³F

lexure Strength: 59-70 MpaE

xtension Strength: 36-53 MpaE

longation at Break: 14.2 %C

apacity: 500g; Shelf Life: 1 yearC

olor Option: Grey, White, Green, Black, Transparent, Yellow, Blue, and RedE

xposure Parameter: First layer exposure: 20-60s; Normal exposure: 5-15s
Available Colors:
Translucent
White
Black
Blue
Green
Red
Yellow
Grey
Skin