SKU:MLE01549
Regular price
Sale price
₱1,499.75
Unit price
per
Sale
Sold out
Share
View full details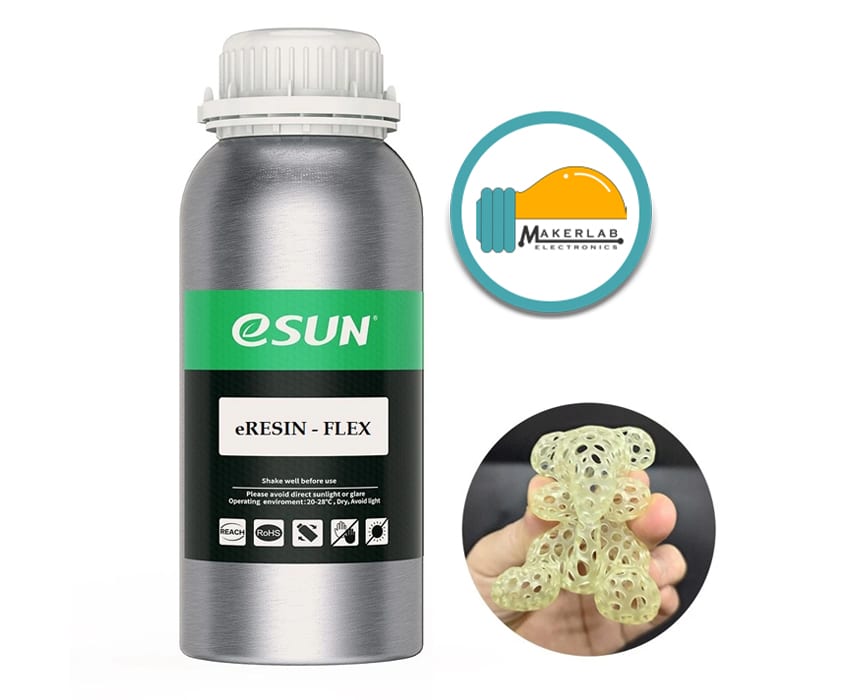 eSUN Bio Resin Flexible eResin Flex Transparent Yellow
High flex, doesn't break after multiple fold. Tougher with better tear resistance.
Features
High Precision
High hardness
Shore A: 85-90
Density: 1.13 – 1.15 g/m3
Viscosity: 1200 mPa at 25C
Wavelength: 405nm
Shrinkage: 6,9%
Tensile strength: 6-8 MPa
Elongation at break: 100-150%
Tearing Strength: 390-320 kN-m
Flexural strenght: 77 MPa
Flexural modulus: 2350 MPa
IZOD Impact strenght: 44 J/m
Color: Orange
Contents
Bottle: 500Gr
Color: Yellow transparant
How to use
Suggest printing temperature is

25-35

?

.

When printing in low temperature it need heating (

40-60

?

) before using

Lift height > 8mm.
Lift speed ~ 60 mm/min.
The waiting time between two exposure > 10s

Put printed model in water for post curing. Use direct sunlight for 30 min, or UV LED light for 15mins .
Notes & Warnings
Always wear personal protection (gloves, glasses) when handling resin
Use your resin 3D printer under well ventilated circumstances
Suggested safety equipment: gloves, mask, glasses, and lab coat
Do not expose UV resin to sunlight or indoor light containing UV
In case you consume UV resin, get medical advise
In case resin get's in your eye, wash your eyes with water and get medical advise
Resin can cause skin irritation, always wear gloves when handling
Please keep UV resin away from kids
Keep resin at room temperature(15 – 35 OC) and dry condition.