SKU:MLE00238
Regular price
Sale price
₱1,599.00
Unit price
per
Sale
Sold out
Share
View full details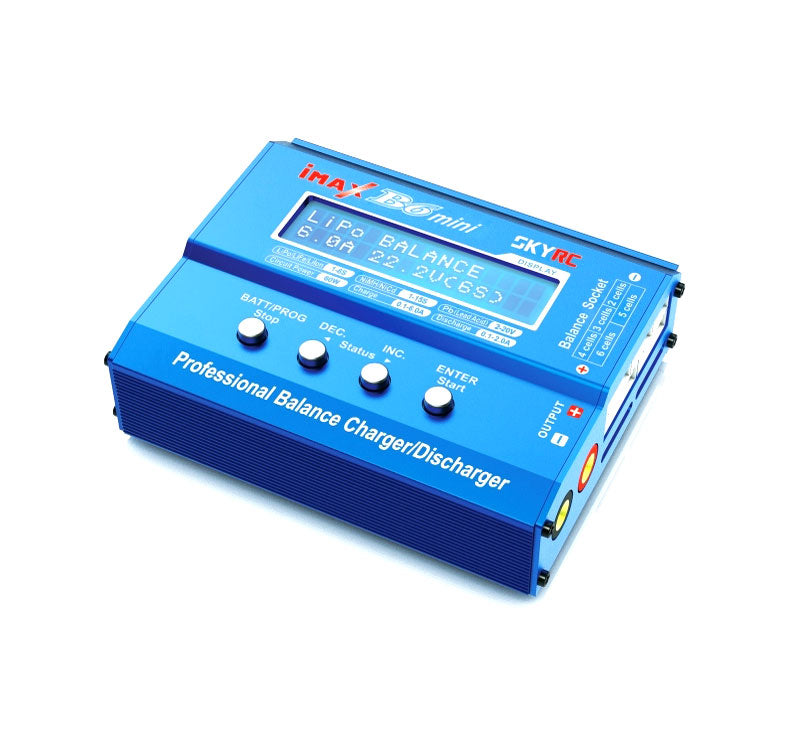 IMAX B6 MINI CHARGER
SKYRC B6 mini is the small and upgraded version for well-known IMAX B6. Compared with B6, it is has new features and functions with its super compact size. Smaller size, bigger power. Compared with B6, the power and charge current are 20% up. Users could connect B6 mini to PC to PC control and firmware Meter.
SKYRC B6 mini is a high-performance, micro processor control charge/discharge station with battery management suitable for use with all current battery types, with integral equalizer for six-cell Lithium-Polymer (LiPo), Lithium-Ferrum (LiFe) and Lithium-lon (Lilon) batteries; maximum 6A charge current and maximum 60W charge power.
PC CONTROL
The user can monitor pack voltage, cell voltage and other data during the charging, view charge date in real time graphs, and can also control charging and update firmware from "Charge Master".
Warning
Do not apply heat, water or any other liquid on the battery.

Do not take the battery apart.

Do not use damaged batteries. (inflated, deformed, damaged, etc.)

Do not charge multiple batteries simultaneously.

Wh

en charging, make sure the battery is connected into the correct polarity.

Do not charge when the battery is hot. Please charge after it has cooled off.

Do not charge the battery when it is being used by the controller.
Compatible Products (for charging)
LIPO 11.1V Battery Set LBS-10

LIPO 11.1V Battery Set LBS-11

LIPO 11.1V 1800mAh LB-12
Please refer to the official site for more information.
http://www.skyrc.com/index.php?route=product/product&path=20_68&product_id=10
* The official site link may contain updated product information different from what is described here.