SKU:
Regular price
Sale price
₱36,999.75
Unit price
per
Sale
Sold out
Share
View full details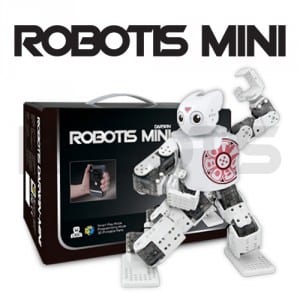 ROBOTIS MINI
ROBOTIS MINI now support iOS!
iOS users can now use the ROBOTIS MINI using BT-410 (sold separately)
If you are an iOS user, please make sure to purchase BT-410 together.
*Voice Recognation mode is NOT available for the iOS ROBOTIS MINI App.
ROBOTIS MINI is a robot kit with an open source embedded board, semi- permanent li-on battery and small actuator.
ROBOTIS MINI CHARACTERISTICS
Awarded the "Good Design" mark
Maintains compatibility with the 6mm grid OLLO frame
Applies the small Dynamixiel XL-320 for various motion functions
Offers the ROBOTIS MINI exclusive App (Touch, Gesture, Voice Recognition, Messenger )
Supports various functions for the user's convenience (battery percentage, offset setting, etc.)
POINT 1. ROBOTIS MINI APP.
The ROBOTIS MINI application uses Button, Gesture, Voice Recognation, and Messenger to control or change movements.
* System Requirements to install ROBOTIS MINI App.
OS : Andriod 2.3.3 (Gingerbread) or greater
Hardware : 1.2GHz Dual Core or greater, RAM 1GB or greater
Once you have completed the assembly, connect your robot with your smart device.
You do have download any programs to your robot.
POINT 2. Various Sensors Expansion Capability
ROBOTIS offers a various range of sensors and parts to add onto ROBOTIS MINI to accomplish and carry out different missions.
Open CM9.04 is an open-source embedded board equipped with 4 ports for expansion capability for sensors, LED modules and various parts.
Programming Environment Support
POINT 1. ROBOTIS MINI APP.
Use the ROBOTIS MINI App to access the setting for Server/Client, Motion Sound, and files.
POINT 2. R+ Motion
Use the ROBOPlus Motion to add or modify motions.
POINT 3. R+ Task
Program your robot using RoboPlus !