SKU:MLE00962
Regular price
Sale price
₱2,349.75
Unit price
per
Sale
Sold out
Share
View full details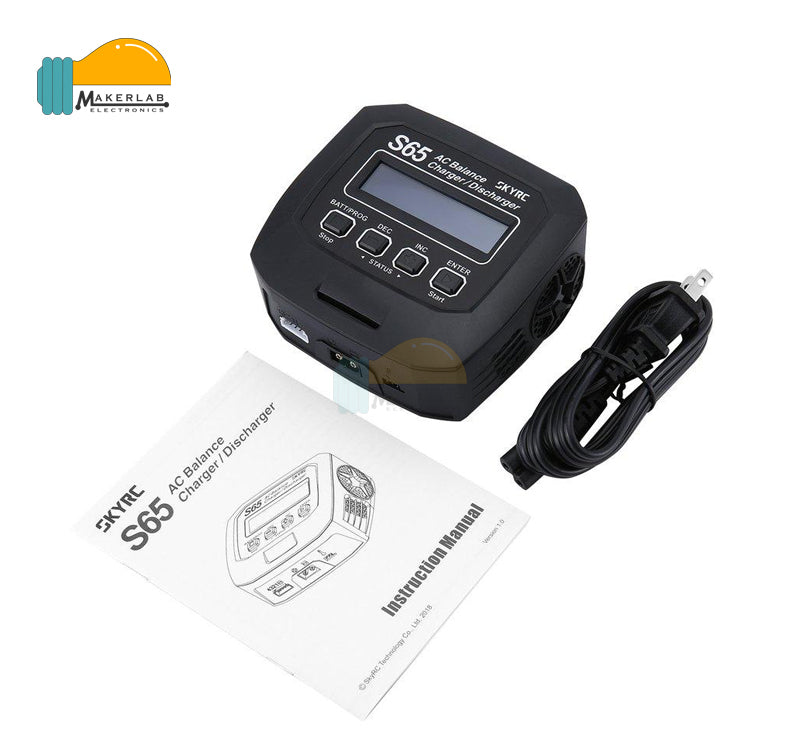 S65 AC Balance Charger / Discharger
SkyRC S65 is an AC input high-performance micro processor control charge/discharge station with battery management suitable for use with all current battery types, LiPo, Lilon, LiFe, NiCd, NiMH, PB and also new generation LiHV with end voltage 4.35V. It is an AC input charger/discharger with compact size. The maximum charging power of S65 is 65W with maximum charging current 6A and discharging current 2A.
Specifications:
S65 Charger - This product is suitable for charging and discharging LiFe/ Lilon/ LiPo/ LiHV/ NiMH/ NiCd/ PB batteries. For Pb battery, AGM Charge and Cold Charge mode are available.
Size and Weight

Case Material: Plastic
Case Size: 118*115*45mm
Weight: 315g
Battery

Battery Types/Cells:

LiPo/LiFe/LiIon/LiHV: 2-4 cells
NiMH/NiCd: 6-8 cells
Pb: 3-6 cells
Battery Capacity Range:

NiMH/NiCd:100-50000mAh
LiPo/LiIon/LiFe/LiHV:100-50000mAh
Pb: 100-50000mAh
Charge and Discharge

Charge Voltage

NiMH/NiCd: Delta peak detection
LiPo: 4.18-4.25V/cell
LiFe: 3.58-3.7V/cell
LiIon: 4.08-4.2V/cell
LiHV: 4.25-4.35V/cell
Discharge Cut-off Voltage

NiMH/NiCd:0.1-1.1V/cell
LiPo:3.0-3.3V/cell
LiFe:2.6-2.9V/cell
LiIon: 2.9-3.2V/cell
LiHV: 3.1-3.4V/cell
Charge Current: 0.1A-6.0A
Discharge Current: 0.1A-2.0A
Balance Cells: 2-4 cells
Balance Current: 300mA/cell Max
Safety Timer: 1-720minutes off
Charge Method:

CC/CV for lithium types and lead(Pb) batteries Delta-peak Sensitivity for NiMH/NiCd.
Documents: