SKU:MLE00216
Regular price
Sale price
₱749.75
Unit price
per
Sale
Sold out
Share
View full details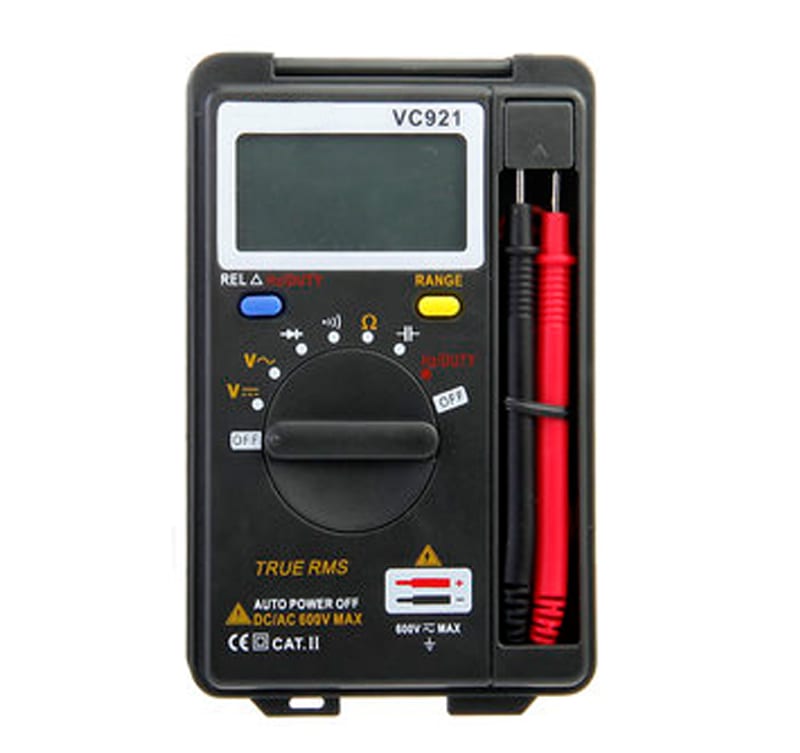 VICTOR VC921 Pocket Multimeter
The VICTOR VC921 Pocket Multimeter is a pocket size multimeter ideal for use when you're outside your lab as it will probably fit nicely on your front pocket. this meter can measure DC and AC voltage, resistance, diode, and beeping continuity test, capacitance, and frequency.
And that's not all! It's also auto-ranging, has a data-hold button and turns itself off automatically after about 15 minutes to preserve the battery life.
Our favorite part is the nice hard-shell case which will protect the meter and will remind you to turn it off (it won't close properly if the switch isn't in the off position) and a smart cord-wrapping area to keep the leads from unwrapping and poking holes in stuff. Runs on two AAA batteries that are included! This is a really nice pocket multimeter!
Technical Details:
Dimensions: 121mm x 80mm x 20mm / 4.8" x 3.1" x 0.8"
Cables are each 390mm / 15.4"
Weight: 133 grams
CE category Cat II 300V
Measures 3 times per second
Operating Temperatures: 0°lC-40°C
Max display: 3999
Auto-range
Diode Test
Continuity with Beep
Data Hold
Symbol Display
Auto Off
Low Battery Indicator
DC Voltage:
400mV / 4V / 40V / 400V / 600V
Accuracy: ± (0.8% + 5)
AC voltage:
400mV / 4V / 40V / 400V / 600V
Accuracy: ± (1.2% + 5)
Resistance:
400? / 4k? / 40k? / 400k? / 4M? / 40M?
Accuracy: ± (0.8% + 5)
Capacitance:
40nF / 400nF / 4uF / 400uF
Accuracy: ± (2.5% + 10)
Frequency:
100Hz / 1kHz / 10kHz / 100kHz / 1MHz / 10MHz
Accuracy: ± (0.5% + 4)
Input impedance: 10M?