SKU:MLE00217
Regular price
Sale price
₱1,499.75
Unit price
per
Sale
Sold out
Share
View full details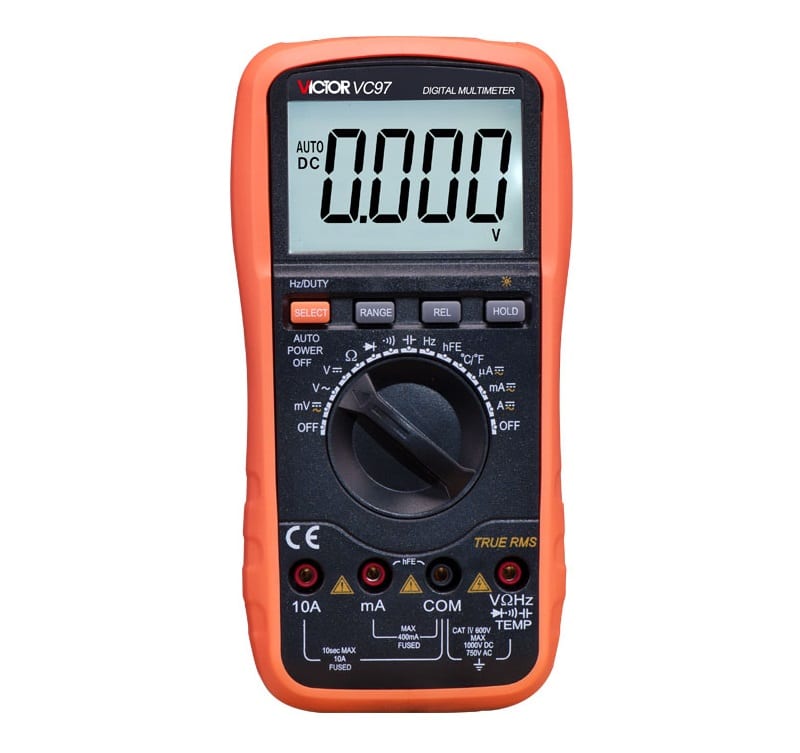 VICTOR VC97 Digital Multimeter 4000 Count
The VICTOR VC97 Digital Multimeter 4000 Count, is an low cost auto-ranging True RMS multimeter, this is not your average digital multimeter, it features a loud continuity sound, current/voltage sense, and quality probes. You can use the multimeter as a Voltmeter to measure AC DC voltage, Ammeter to measure AC DC current, Ohm meter to measure resistance, continuity, and test diodes. Other features indicated below. The VC97 features a 4000 count large LCD display with backlight, a rubber mold case for grip and shock protection.
What is a Multimeter
A digital multimeter (DMM) is a standard test equipment for technicians and hobbyist in the electronic industries, it is used to measure two or more electrical values, usually voltage (volts), current (amps) and resistance (ohms).
Digital multimeter had long since replaced majority of the needle-based analog meters due to their ability to measure with greater accuracy, reliability and increased impedance.
Digital multimeter combine the testing capabilities of single-task meters—the voltmeter (for measuring volts), ammeter (amps) and ohmmeter (ohms). Often they include a number of additional specialized features or advanced options. Technicians with specific needs, therefore, can seek out a model targeted for particular tasks.
The face of a digital multimeter typically includes four components:
Display: Where measurement readouts can be viewed.
Buttons: For selecting various functions; the options vary by model.
Dial (or rotary switch): For selecting primary measurement values (volts, amps, ohms).
Input jacks: Where test leads are inserted.
Tutorial:
Features:
Diode Test
Auto Ranging
Capacitance
Frequency
Temperature
Transistor Gain
Continuity Test
Auto Power Off
Low Battery Indication
Packing List:
1 unit VC97 Digital Multimeter
1 pair. Test Leads (Red/Black)
1 pc. Thermocouple Type K
1 pc. Multi-Function Socket
Specifications:
| | | |
| --- | --- | --- |
| Basic Function | Range | Accuracy |
| DC Voltage | 400mV/4V/40V/400V/1000V | ±(0.5%+4) |
| AC Voltage | 400mV/4V/40V/400V/750V | ±(0.8%+10) |
| DC Current | 400uA/4000uA/40mA/400mA/10A | ±(1%+10) |
| AC Current | 400uA/4000uA/40mA/400mA/10A | ±(1.5%+10) |
| Resistance | 400?/4k?/40k?/400k?/4M?/40M? | ±(0.8%+4) |
| Capacitance | 4nF/40nF/400nF/4uF/40uF/200uF | ±(2.5%+20) |
| Frequency | 100/1000/10k/100k/1M/30MHz | ±(0.5%+10) |
| Celsius | -20~1000`C | ±(1.0%+5) |