SKU:MLE00422
Regular price
Sale price
₱249.75
Unit price
per
Sale
Sold out
Share
View full details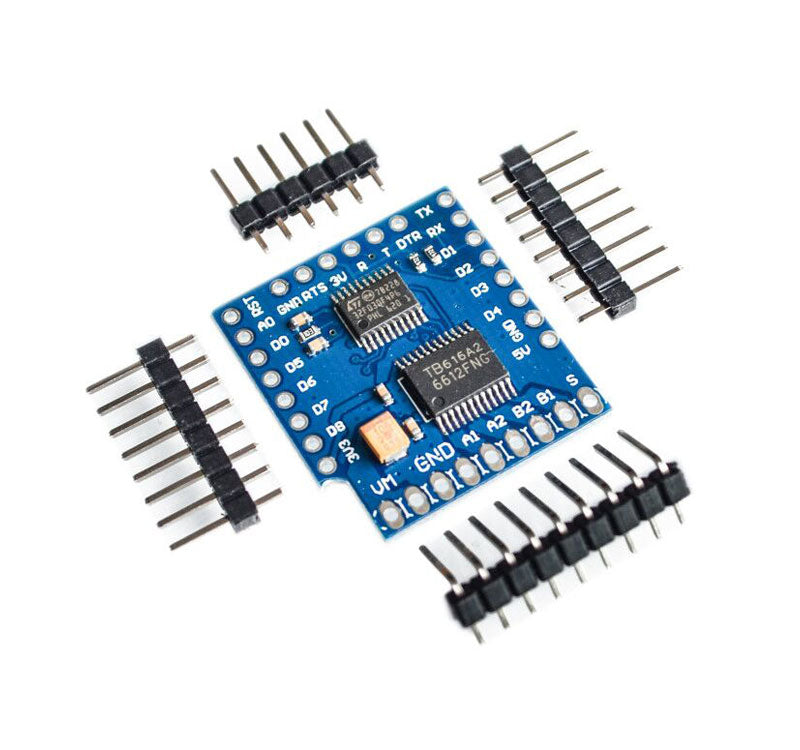 WeMos D1 Mini Motor Shield TB6612FNG
This WeMos D1 Mini Motor Shield TB6612FNG allows to control 2 DC motors. The board is capable of independently controlling the speed and direction of each motor (A, B). The maximum permissible power is 1.2A per motor. It supports a power peak at 3.2A. By default, the card is located at address 0x30 on the I2C bus. The card comes with a library in C ++ as well as 4 examples of Arduino code. The firmware of the STM32F030 to control the shield via the I2C bus is not installed (or properly installed) on some clones.
Specifications:
I2C interface (see next paragraph to change the default address 0x30)
Maximum supply voltage (VM pin): 15Vdc max
Output current (pin Iout): 1.2A (average) – 3.2A (in peak)
Standby function for energy saving
CW / CCW / short brake / stop motor control modes
Pins

VM: Power supply + (max 15Vdc)
GND: negative motor terminal –
A1 A2: Engine A
B1 B2: Motor B
S: standby control
Standby control mode

I2C mode: Controls the standby function of the TB6612FNG circuit using the I2C protocol
IO mode: Controls the standby function of the TB6612FNG circuit with the "S"

Reset modes

short: reset with d1 mini (reset at power on or press d1 mini's reset button)
open: reset by "DTR" pin.
How to change the I2C address of the card
By default, the Shield is at the address 0x30 on the I2C bus. On the back of the card there are 2 jumper AD0 and AD1. By making a bridge by welding the two terminals of each jumper, one can change the address of the shield. The '-' means that the pot is open. The 'x' means that the bridge is closed by a weld.
| | | |
| --- | --- | --- |
| AD1 | AD0 | Address |
| – | – | 0x2D |
| – | x | 0x2E |
| x | – | 0X2F |
| x | x | 0x30 (default) |