SKU:MLE01420
Regular price
Sale price
₱1,500.00
Unit price
per
Sale
Sold out
Share
View full details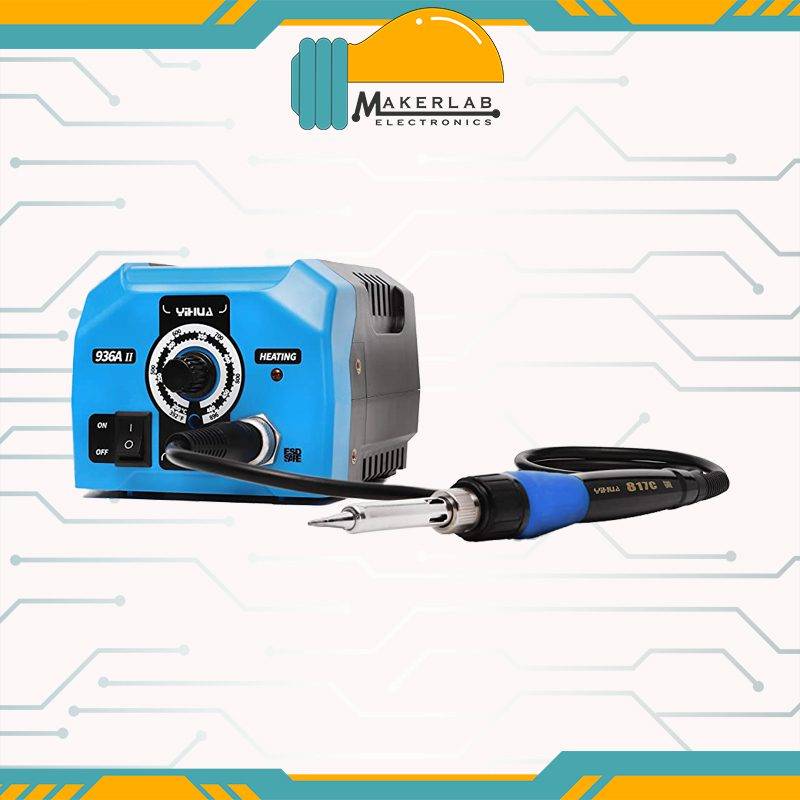 Features:
Classification
- Capable of Soldering & Desoldering operations
- For Surface-Mount and Through-Hole components
- On components such as SOP, DIP, SOIC, and more
Innovations
- Protective Edge (Silicone / Heat Resistant)
- Integrated Soldering Tip Storage (In Holder)
- Integrated Cleaning Kit
Performance
- Temp. Range: 392°F-896°F
- Temp. Stabilization Range: ±3.6°F
- Temp. Compensation: Built-in Stabilization Function
Precision
- C°/F° Dual-Temperature Dial Map
- Temperature Calibration: Yes
- Temperature Control: Yes
Safety
- Quality Transformer
- Low-Voltage Protective Power Connectors
- ESD Safe
- Lead-Free
We innovated the ergonomics to give you a better user experience:
- An integrated cleaning system includes the cleaning tin (rosin & copper wool ball), a cleaning sponge, and a heat-resistant protective edge. You can clean the tip with either the sponge or the wool ball, and protect the tip with rosin. Just when you're shaking off the solder, the protective edge is always there to prevent damaging the heating element. All these cleaning essentials are integrated into the holder for you to easily use and access.
- A single integrated soldering iron holder designed to provide flexibility. Conventionally, it can store the soldering iron. Additionally, it can clean the tips with the effective tips cleaner. CAUTION: when using the brass wool tip cleaner (rosin-inside), ensure there is adequate ventilation, DO NOT inhale the fume generated or consume the solid-state rosin, DO NOT allow your skin and eyes to get in direct contact with the rosin.
-A heat-resistant silicone gel edge to protect your heating element from cracking under unintentional knocking when you're cleaning the iron tip.
- Integrated iron tip storage slots for you to place your regularly used soldering iron tips for making quick tip changes.
In the box
1 x 817C Soldering Iron
1 x 936A II Soldering Station
1 x Power Cord
1 x Soldering Iron Holder (Rosin, Copper Wool Ball, Cleaning Sponge included)